Summary: How much disk space do you really need for a web hosting account? This is a common question and isn't always obvious to a casual observer. As with any question, seeking out information is the best way to answer these questions. You might see a web hosting offer with a boatload of disk space, but if you're never going to use that much disk space does it make better sense to spend money on smaller amounts with a reputable and support-oriented company? Does it make sense to focus more on the speed of the disk space and web hosting than to throw money at disk space you're never going to use? We found that the average disk space used by our clients is only 1.8GB and 77% of our client base falls under this amount. So chances are really good that you're never going to use over 1.8GB of disk space on a web hosting account. Interesting in how we calculated this? Keep reading.
To take a closer look at this – we used statistics to get an idea of how much disk space is being used and how it is being used.
To start – we have a small confession to make – the actual average disk space used per account is 2.9GB, but this figure incorporates some really large accounts. This tends to happen when you've been in the web hosting business for more than 20 years. So why the difference between 1.8GB and 2.9GB? The answer… statistical favorite – standard deviation.
Standard deviation tells you how close together a group of numbers are. If all the numbers in your group are the same – that's going to yield a standard deviation of 0. The closer your numbers are to each other, the closer the standard deviation is going to be to 0.
When we take the standard deviation of the full set of account disk space used – the group that averages 2.9GB of disk space used – we get a standard deviation of 12GB. That seems quite a bit high! When we cut off just the top 2% of our disk space users – leaving just the bottom 98% – we get an average disk space usage of 1.8GB and a standard deviation of 3.7GB. That standard deviation is still probably a little high – meaning that we could probably cut this some more to get an even better representation of the casual user – but you can see that by cutting just the top 2% off, the standard deviation of the remaining group drops down by over 8GB. What does all of this mean? Well, for the purpose of this exercise we're going to consider the top 2% of our users as a special case – these are users that, for whatever reason, use a ton of disk space (they average about 57GB) and they don't represent the vast majority of our users. Chances are, if you're using this much disk space… you're not a casual observer and you know that you are using a lot of disk space.
In statistics, measurements are made in terms of how many standard deviations a subset of values is over the average. For example, if our average disk usage is 1.8GB and the standard deviation is 3.7GB, then 5.5GB (1.8+3.7) would be +1 standard deviation over the average, 9.2GB (1.8+3.7+3.7) would be +2 standard deviations over the average. This breaks down as follows:
| | |
| --- | --- |
| Average | 1.8GB |
| +1 Standard Deviations | 5.5GB |
| +2 Standard Deviations | 9.2GB |
| +3 Standard Deviations | 12.9GB |
| +4 Standard Deviations | 16.6GB |
How does this break down in terms of percent of users using less than these amounts?
| | |
| --- | --- |
| Less than 1.8GB | 77% |
| Less than 5,5GB | 90% |
| Less than 9.2GB | 95% |
| Less than 12.9GB | 97% |
| Less than 16.6GB | 98% |
This means to the casual observer, there is a 90% chance you're never going to use over 5.5GB of disk space on your web hosting account. Sure an offer of 50GB of disk space might look enticing, but what are you giving up for that deal? Is the web hosting company reputable? How long have they been in business? Can they answer your support related questions? Are they using SSD disks for blazing fast disk I/O? Are they just using a big number to try and hook you in? Knowing exactly how much disk space you need can help you make a better informed decision.
At BlazingHost we offer plans with disk space amounts of 3GB, 7GB, 10GB, and 15GB. These numbers were chosen specifically based on the data we have of current disk space usage. When you look at our disk space offerings and the percent of our client base that falls under each category:
| | |
| --- | --- |
| Less than 3GB | 85% |
| Less than 7GB | 93% |
| Less than 10GB | 95% |
| Less than 15GB | 98% |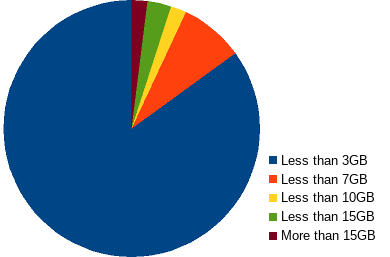 We make an effort to give all of our clients an affordable option that fits their needs. Our 3GB offering – our least expensive plan – is good enough for 85% of our client base. A 10GB offering is good enough for 95% of our client base.
We hope that you find this post informative. The purpose of this post is to provide information so that individuals have a better idea of how much disk space they really need for a web hosting account.